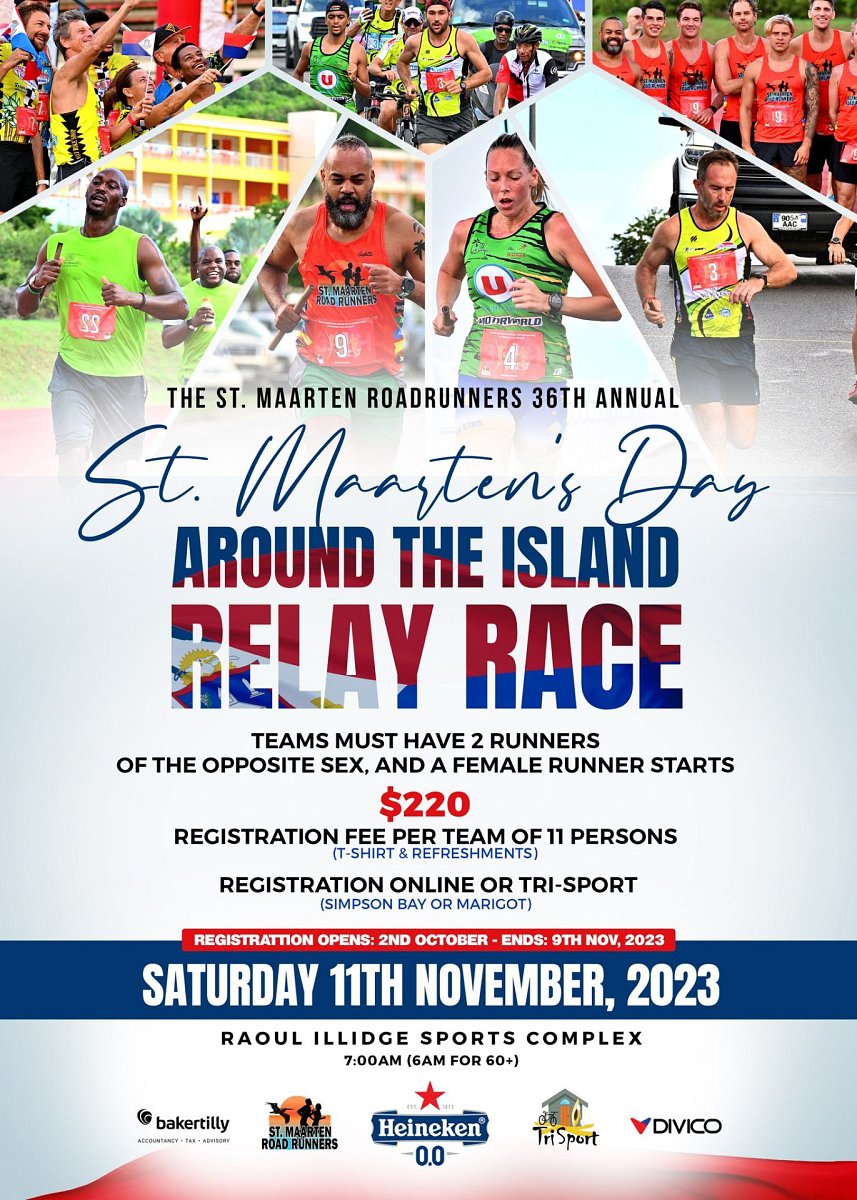 Event Details
The 36th annual St. Maarten's Day Around the Island Relay Race is coming up on Saturday 11th November 2023 and the St. Maarten Road Runners are as excited as ever to show you an amazing time!
SXM Road Runners Association encourages persons to sign up for the 36th edition of this highly anticipated event: "Join in and run with your colleagues, friends or family in a team of 11 persons, each completing legs that vary between 3 and 4 kilometers. The island relay race is an incredible, sportive, healthy and fun experience to start your Sint Maarten Day celebrations."
The St. Maarten's Day Around the Island Relay Race premium sponsor of this year's event is Bakertilly & Heineken 0.0%.
Please sign up your team with team members name & age & contact. Registration closes 9th November.
Possible online registration via Facebook event OR at Tri-sport Simponsbay/Marigot.
The entry fee is $220 per team which includes a commemorative T-Shirt, local sandwiches and drinks for every competitor after the event.
There are just 4 rules:
*Teams must have 11 runners, each runner must complete their own leg and run with their team's baton in hand.
*Team must have at least 2 runners of the opposite sex.
*Team member is not allowed to run multiple legs of the same team. -> You must wear the correct BIB number.
*New for 2023: Your female runner has to start at the startline Leg 1.
Two Yellow Lines will be marked on the roads at each transition. The baton must be passed to the next runner in between these two lines, not outside of them.
There are prizes for the fastest and best-dressed teams who participate in the race. In addition, a 'Remarkable Feet' will be awarded to someone who deserves special recognition for doing the extraordinary. Teams can nominate someone for this award by sending an email with motivation to sxmroadrunners@gmail.com.
Captains briefing and Baton & Number pick up is at Tri-Sport in Simpsonbay all day from 10am to 5pm from November 1st to the November 10th.
We ask the public, please do not drive next to your runners. This causes a back-up of traffic and creates dangerous exhaust fumes for runners behind you. It is understandable that you would want to cheer on your runners, but this can be done for a moment before pulling over or going on ahead.