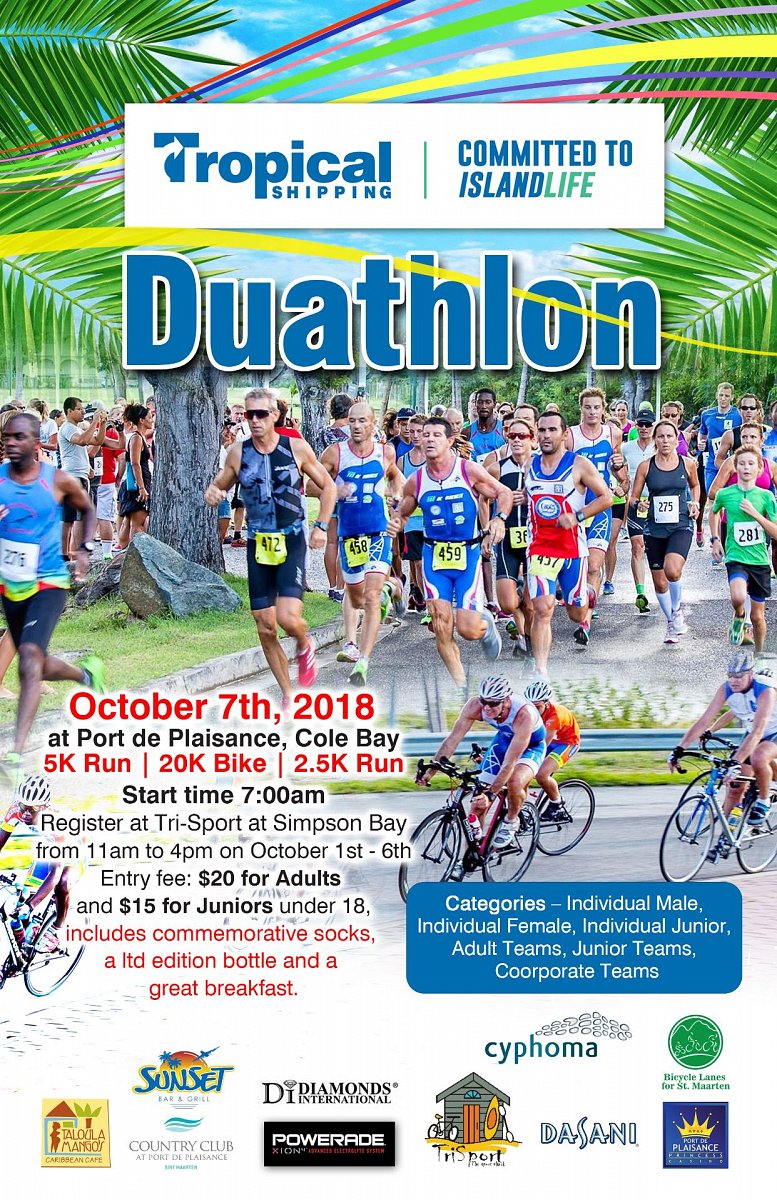 Event Details
5K Run / 20K / Bike 2.5K Run at Port de Plaisance in Colebay

Start Time: 7:00am at PDP

Registration: 11am to 4pm from September 30th until October 5th at Tri-Sport in Simpsonbay.

Categories: Individual Male, Female and Juniors under 18, Teams (2 Participants), Junior Teams (2 Particiipants), School Teams and Corporate Teams (can be two or three Participants).

Entry Fee: $20 per person ($15 for Team members and Juniors under 18) - Includes a One-Of-A-Kind-Limited-Edition Pair of Tropical Duathlon Socks and a Commemorative Waterbottle.

Course: Run 4 laps inside of Port de Plaisance, grab your bike and exit Port de Plaisance, turning left towards the causeway. Cross over the Causeway. Continue along the Airport Road to the roundabout with the pelicans at the Airport. Turn at the Pelicans Roundabout and reurn to the Causeway, crossing over and turning once again at the roundabout on the Colebay side.
Complete this same lap three times (school categories will do only one lap) and on your third return to Port de Plaisance to set down your bike or tag your team mate.

You will then run two laps of Port de Plaisance.

Rules:

1) Drafting is allowed.
2) Helmets are a must.
3) You count your own laps!
4) Bad sportsmanship, bad language, aggressive behavior will result in a public humiliation, and denial of Marci's famous fruit salad!