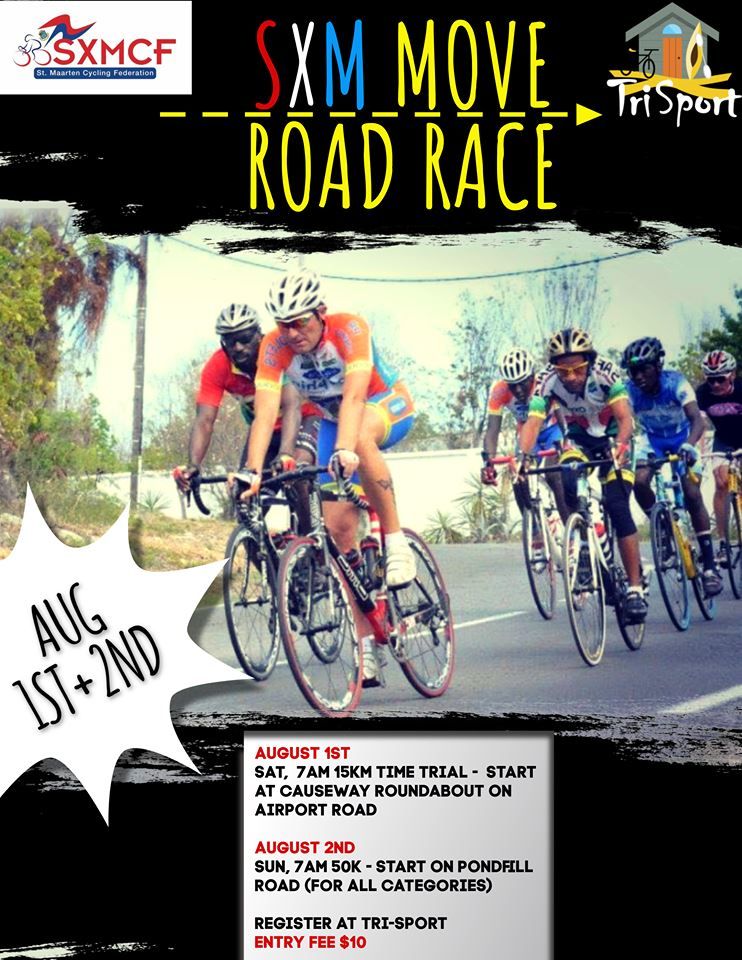 Event Details
This two-day road race will include a 15Km Time Trial on Saturday morning, and a 50Km road race on Sunday, August 2nd.
Registration is $10 which allows entry to both races. Register in advance at Tri-Sport, no on the line registration is allowed.
Categories are: Master B, Women, Master A and Elite
Master A riders are over 40, while Master B are over 60 or Novice Riders.
All categories compete in the same distance.

Saturday Time Trial:
Start : 7am SHARP at the Roundabout on the Airport side of the Causeway - All Riders must be at the start at 7am to be ready for their departure. Riders will leave in one-minute increments.
Route: https://www.strava.com/routes/2723674206011314762
Ride towards Simsponbay, crossing the Bridge, and continuing up Colebay Hill to the roundabout. Turn and come back down Cole Bay Hill, turning right into Cole Bay and then crossing over the Causeway. Continue to Maho, turning around the roundabout and returning to finish at the Start.
Time Trial Rules: Riders may not draft on any other rider. You must maintain a distance of 6 meters behind or two meters alongside when passing.

Sunday Road Race:
Start: 7am at the Parking on Pondfill opposite the Central Bank.
Route: https://www.strava.com/routes/2723677648567126926
Start riding towards Point Blanche, passing the cruise ship port and turning left into Point Blanche. Turn around at the first intersection and return to Pondfill, continuing over the Price Bernard Bridge and over Cay Hill. Ride down the hill to Colebay, turning right at the roundabout at the bottom of the hill and continuing to Colebay, crossing the Causeway to Maho, and turning at Maho to return to Colebay Hill via Simpsonbay. Ride back to the start. Continue to Point Blanche, turn around and head back to Pondfill and up Cay Hill, turning around at the top of the hill at the roundabout, to return to the start. That shorter lap must be done twice for a total distance of 51Km.

Prizes will be awarded for both races.
You must have a license to enter this race or you can sign up for your 2020 UCI license at the start for a reduced rate of $25 for the remainder of the year.