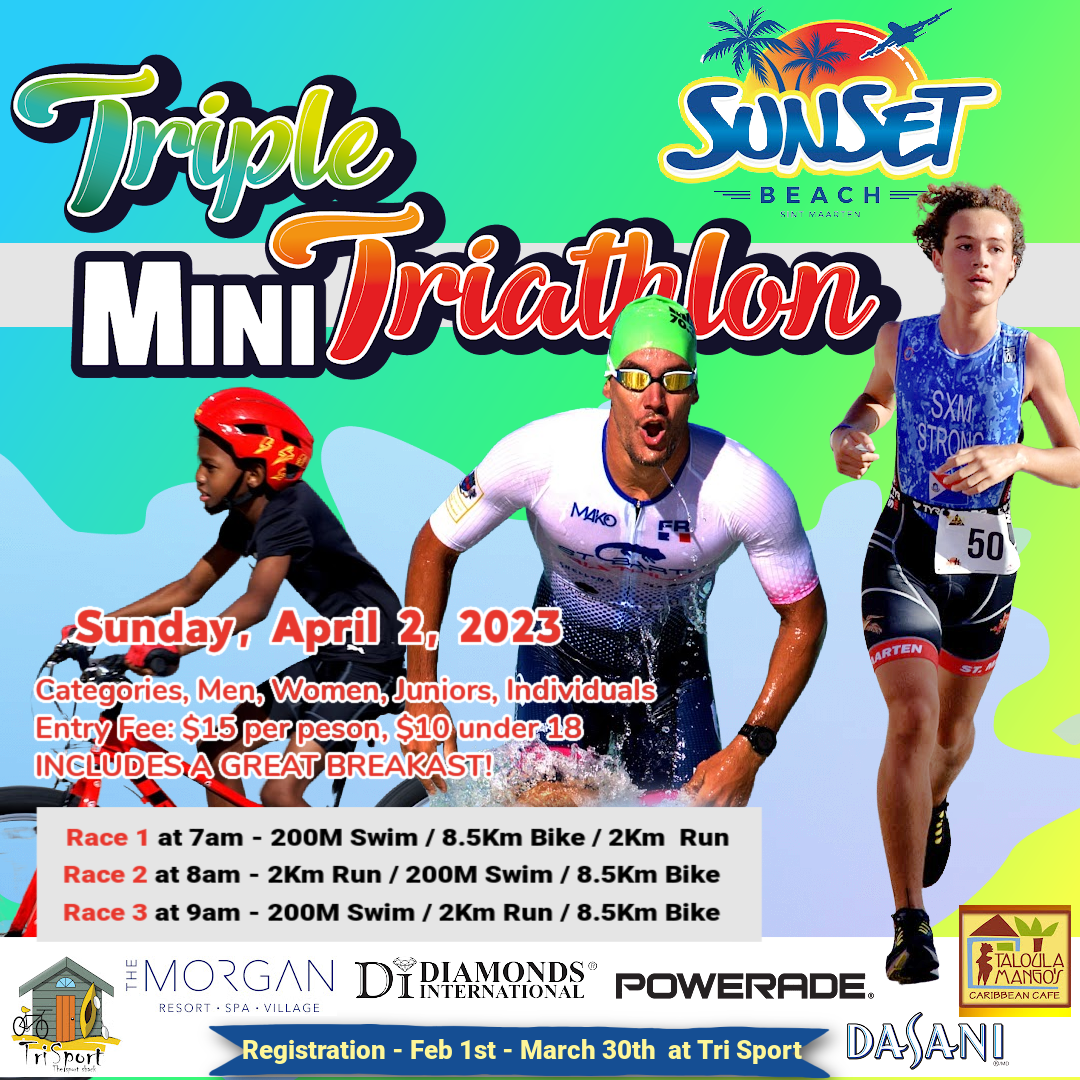 Event Details
It's time for this super fun event once again! The Sunset Beach Bar Triple Mini Triathlon offers something for everyone! Whether you are trying out your very first triathlon or are a seasoned athlete, you will find a fun challenge on April 2nd.
The event consists of three short triathlons starting at at 7am, 8am and 9am, and you can choose to do one, two or all three, however prizes will be awarded only to the participants who complete all three races.
This event is open to individual competitors only and is not a team triathlon.
Course Description:
Swim - 200M - Rectangular course from Maho Beach
Bike - 8.5Km - Exit from Sunset Beach Bar and turn left passing Maho Beach to the roundabout at Maho, then turn right to the airport, turning at the roundabout with the Pelicans. Head back to the Maho Roundabout. On your third turn at the Pelicans, you will be heading back to Sunset Beach Bar.
Run - 2Km - Exit the Sunset and turn right into Beaconhill. Continue along the road, keeping right until the roundabout at the point of Beaconhill. Run around the roundabout and return to the transition at Sunset.
Race Starts:
7:00am - 200m Swim, 8.5Km Bike, 2Km Run
8:00am - 2Km Run, 200m Swim, 8.5Km Bike
9:00am - 200m Swim, 2Km Run, 8.5Km Bike
Registration:
Online at https://forms.gle/hy5VuRGY6yDApn5Z6 or at Tri-Sport in Simpsonbay and Marigot from now until March 31st.
Registration CLOSES on March 31st!!!
Entry Fee:
$15 and $10 for Juniors under 18
Rules:
1) Helmets are mandatory during the ride
2) Tops are required for the ride and run portions of the event
3) Numbers must be worn at the front when crossing the finish line. If the time keepers cannot see your number, you may miss out on having a finish time.
4) Drafting is allowed due to the tight, short course, so Susy is happy!
5) Count your own laps on the ride! Our volunteers are not responsible for counting your laps, only noting down your numbers to be sure you have completed the three laps that are required.
6) No headphones or music during the ride portion of the race.
7) Smile and have a good time! Any aggressive or disrespectful behaviour will result in Susy's wrath!