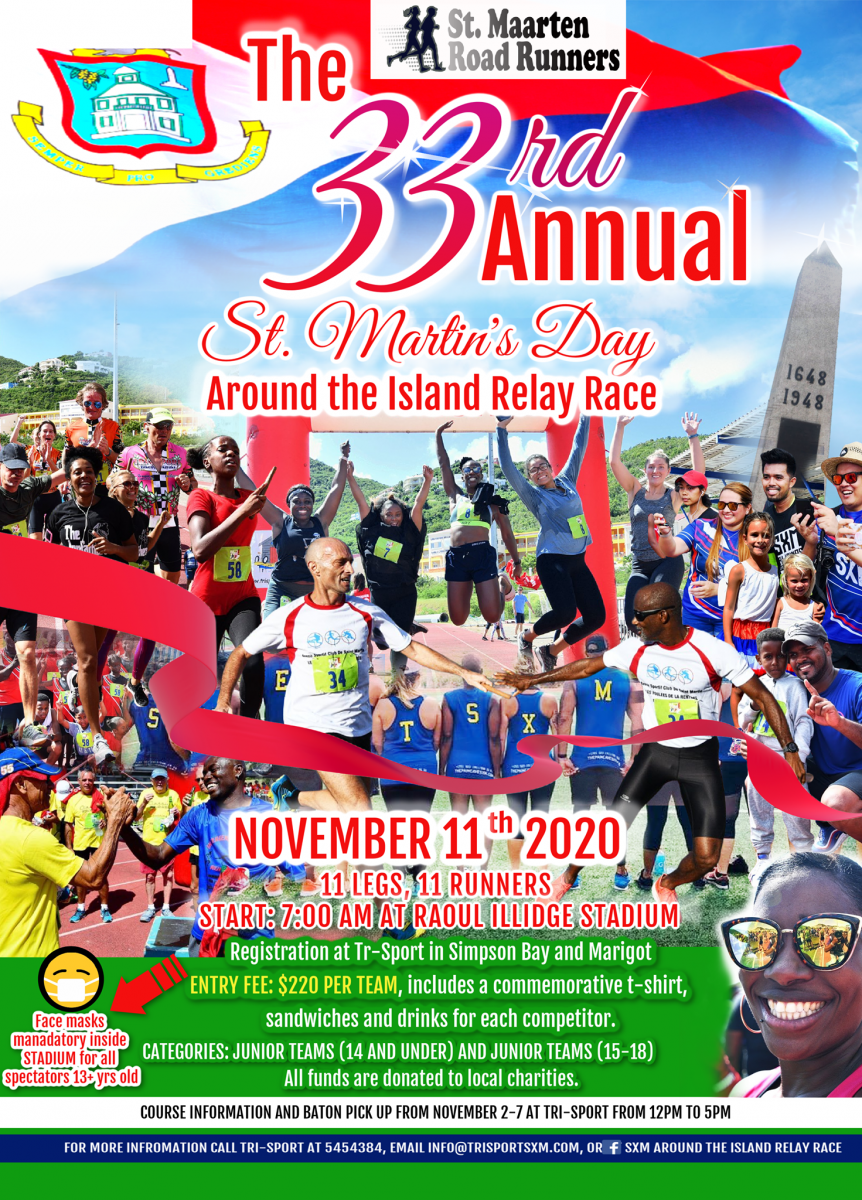 Event Details
This year marks the 33rd Anniversary of the St. Maarten's Day Around the Island Relay Race, and it is going to be a spectacular event! Teams of 11 runners will circumnavigate the South and North of St. Maarten/St. Martin each completing legs that vary between 3 and 4 kilometers. And just for a twist, we will be running the course backwards!

Registration opens on September 15th and closes on November 2nd. You can register at Tri Sport in Simpsonbay and Marigot or online at https://forms.gle/f7WgZjLiumNFUVkBA

The entry fee is $220 per team which includes a commemorative T-Shirt, sandwiches and drinks for every competitor after the event.

Every team must include at least two of the opposite sex.
Categories are: Teams, Junior Junior Teams (14 years old and under), and Junior Teams (15 to 18 years old).

We will also have a special prize for the BEST DRESSED TEAM and the traditional Special Feet Award which is presented to an individual or team who have accomplished something extraordinary. So, bring out your favorite costumes and go wild or send us the name of someone you think deserves to win the Special Feet Award!!

Captains briefing and Baton & Number pick up is at Tri-Sport in Simpsonbay all day from 10am to 5pm from November 2nd to the 7th.

New Regulations to ensure a safe event amidst the fear of Covid:

- A maximum of 30 Teams will be allowed to register
- Only the runner starting their leg and finishing their leg is allowed at any transition at any time. Teams will have to pick up their runners at a minimum distance of 400 meters from the transition of each leg and by no means are allowed to congregate at these transitions.
- Upon finishing the event, all those entering the Raoul Illidge Stadium must be wearing a mask. Free masks will be available to those who need them.
- No eating or drinking on the grass of the stadium. This will only be allowed in the bleachers.