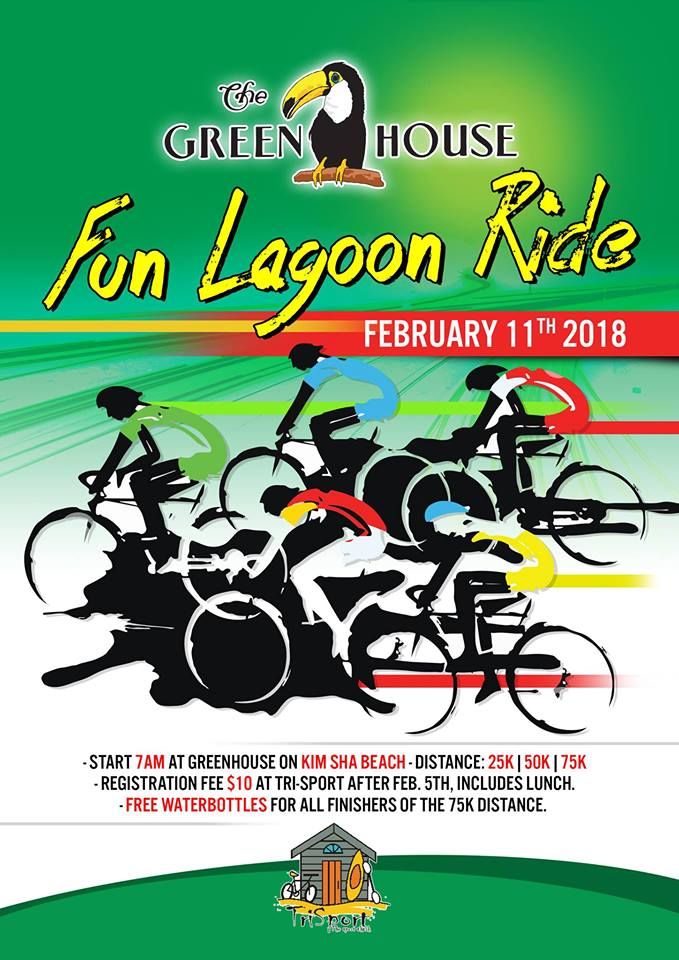 Event Details
The Greenhouse Fun Ride is back!
It is time to wipe the salt and rain off of your trusty steed and join us for a much needed ride on February 11th.
Greenhouse Restaurant will once again be putting together a tasty lunch at 11:30am for those wanting to stay on a bit at the beach and eat something after the ride, and for those completing the longer distance and will need some sustenance after the hard effort.

The goal is to complete as many loops around the Lagoon as possible, but even one is a great accomplishment for many.
The first 25Km loop will begin at Greenhouse Restaurant at 7am and head around the Lagoon clockwise (yes, up the Border climb at Porto Cupecoy !!).
Upon completing your first 25Km, you can refill your bottles and grab an energy gel outside of Tri-Sport in Simpsonbay while you re-group with your fellow cyclists. At this point you can return to Greenhouse or continue for another loop. A total of 3 loops (75Km) is the goal of the day, but you are welcome to complete as many as you are able. each loop will finish at Tri-Sport in Simpsonbay.

Helmets are mandatory! Average Speed between 20Km and 40Km, so not for young children unless they are racers.
For any questions, call us at 545-4384.